Product Description
Main Features
* Mainly used in storage and transportation of liquid oxygen, liquid nitrogen, liquid argon, and liquefied natural gas
* Adopted high multi-layer insulation method to ensure the low evaporation rate.
* Inner vaporizer provides a 10Nm3/h stable continuous gas.
* Adopt the international CGA standard tie-in and all the valves installed imported from USA(Rego)
* Unique design of damping ring meets the needs of frequent transportation.
* Suitable for electronics, research, chemical industry, welding, and LNG supply industries.
​Specification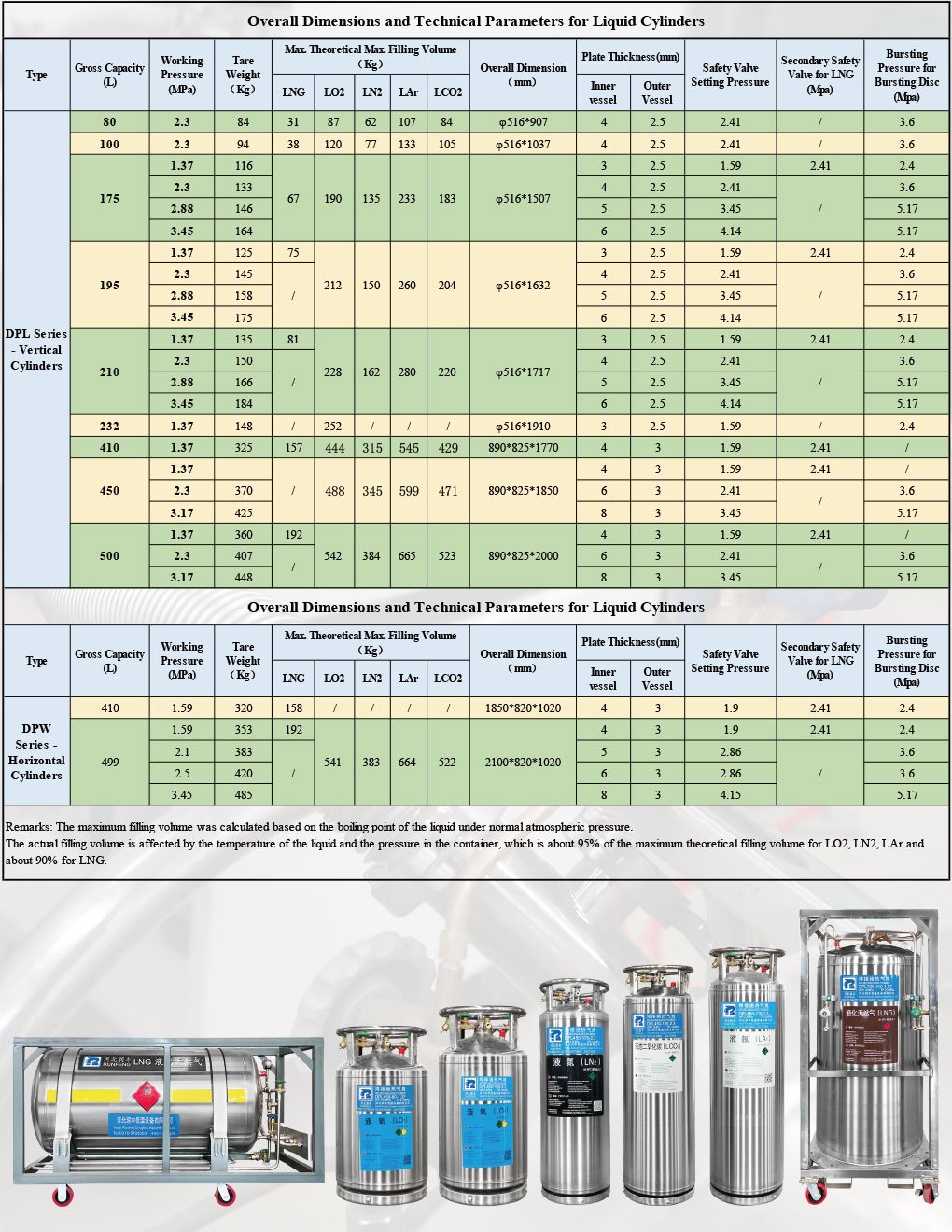 Main Features
1.to fill liquid oxygen for medical use, as an equipment for providing LO2;
2.to fill oxygen for the cutting, welding, and heating of metal in industry;
3.to fill liquid argon for argon-arc welding and other protection occasion of argon;
4.to fill liquid nitrogen for the protective use by high nitrogen, and the field of food, pharmaceutical, biotech,
Detailed Images

Each of our cylinder must strictly go throughdegreasing and refined polish.

Digitail level gauge Optional

we provide digital level gauge for option, which is show by precision percentage.

Anti-Shock Rubber Cushion

The thicken rubber cushion can greatly prevent the inner container from any sudden shock and bufferthe impact.

25 layers of Vacuum insulated quilt

We use 25 layers of mutiple thermal insulated quilt to ensure the vacuum effectiveness.

Each of our cylinder has two protective rings to protect the brass vaporizer coils and pressure built coils from any deformation

Firm Foundation Structure.

Our DPL-450L&410L serials are all fabricated by bolts and nuts with strong frame foundation.

Certifications
Cryogenic liquid cylinders have an inner container and an outer container with an insulated vacuum space between them .Any abuse(dents,dropping.tip-over,etc.)can affect the integrity of the containers insulation system.
DPL series containers will allow you to use a hand truck or hoist to handle these loads properly.Do not attempt to move these cylinders by any other means.While moving the cylinder,the following precautions should be observed
1.Never lay the cylinder on its side.Always ship,operate and store the unit in a vertical or upright position.
2.When loading or unloading the container from a truck,use a hand truck,lift gate,crane or parallel loading dock.Never attempt to manually lift the unit.
3.To move the container over rough surfaces,or to lift the container,attach an appropri-ated sling to the lifting points cut into the welded support posts,and use a portable lifting device that will handle the weight of the container and its contente
---
Previous:
Liquid Carbon Dioxide Bottle
Next:
Bulk Tank Systems
---